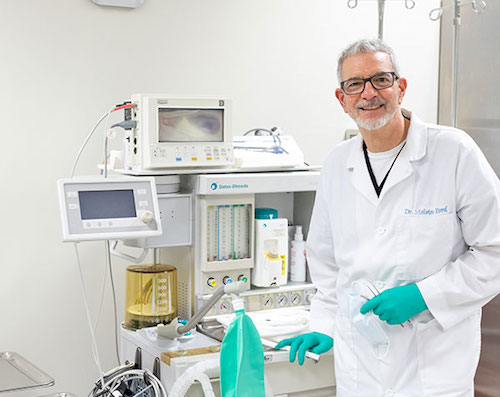 Sedation is a wonderful choice for patients who are undergoing advanced dental services or patients who feel anxious or nervous about oral surgery and their treatments.
Oral Surgery of Tidewater offers a variety of sedation options for our patients. If you feel nervous about receiving sedation during your treatments, we invite you to talk with one of our amazing surgeons to discuss your concerns and find the best option for you and your needed treatment. Contact our office at (757) 499-6886 to schedule your appointment and learn more about sedation and oral surgery in Virginia Beach, Virginia.
Types of Sedation
Oral Surgery of Tidewater offers the following sedation options:
Local Anesthetic: Local anesthetic is used with every procedure. It is an injection, and it numbs the area around the injection site. The numbing occurs in just a few minutes and can lasts several hours.
IV Sedation: Intravenous sedation, also known as IV sedation, is an advanced and effective way to sedate a patient for dental treatment. With IV sedation, patients are conscious but yet, in most cases, do not remember the procedure. This method is also known as "twilight sedation."
Nitrous Oxide: Inhaled sedation is a form of conscious sedation where the patient is awake and inhaling nitrous oxide, better known as "laughing gas," to help them get through a procedure with minimal physiological and psychological stress. This is ideal for someone with mild anxiety of the coming dental procedure. Nitrous oxide is also used in combination with IV Sedation at Oral Surgery of Tidewater.
Our greatest concern is patient comfort. We know that dental pain can be extremely disruptive and that some people experience dental-related anxieties. Our doctors are trained to administer anesthesia safely and effectively.
Our clinical staff members are highly experienced and well trained, gentle, and compassionate. They make sure you understand your treatment, are informed of all options, and make knowledgeable decisions about your procedures.
During your visits at our office, the staff will listen to your concerns, immediately respond to address any issues, and do all they can to ensure you're comfortable. Following your procedures, they will explain in detail post-surgical home care, answer questions, and review what to expect during the healing process.
Pre/Post-Operative Instructions
When you come in for your consultation, your surgeon will discuss with you the appropriate supplement anesthesia for your procedure. Each requires different preparation on your part and, for your safety.
Local Anesthesia
Local anesthesia is used with all treatments. It will produce a numb feeling in the area of operation. If no other sedation is used, you will be aware of a feeling of pressure during surgery.
If only local anesthesia is being administered, we recommend having a light meal a few hours prior to surgery. For more extensive procedures you may wish to have someone drive you home. Plan to rest for a few hours after surgery.
Nitrous Oxide
Nitrous oxide, or "laughing gas" will make you somewhat less aware of your surroundings, help you feel relaxed and may also cause a heightened sense of hearing; however, you will recall most of the surgical event.
If nitrous oxide and local anesthetic are the only types of sedation used during your procedure, you may have a light meal four hours prior to surgery. If you are anxious or have a more extensive procedure, it is best to have someone drive you home but is not necessary. Plan to rest for a few hours after surgery.
Intravenous Sedation/General Anesthesia
Intravenous (IV) sedation/general anesthesia medications are given through a vein in your arm or hand, which will cause total relaxation. IV sedation is most commonly paired with nitrous oxide to help with the initial anxieties prior to the IV being placed.
Do not have anything to eat or drink, including water, for six (6) hours prior to surgery. TO DO OTHERWISE MAY BE LIFE THREATENING! However, it is important that you take any regular medications (high blood pressure, antibiotics, etc.) or any prescription that we may have provided, using only a small sip of water. If you are unsure about taking your medication prior to surgery call our office and speak to one of the staff members to find out if taking that medication is necessary. 757-499-6886
You MUST have an escort at least 18 years of age or older to drive you home and that will REMAIN in our office during your entire procedure. Plan to rest the remainder of the day after surgery. Do not drive, or operate power tools, machinery, etc., or plan to work or make business decisions while under the influence of sedation for 24 hours after surgery. No rigorous exercising should be performed within seven days following surgery. Consult with your doctor regarding the appropriate time to return to a normal schedule.
Please wear comfortable, loose-fitting clothing. Tops/shirts should have sleeves that can easily be pulled well above the elbow. It is also important to wear flat, fully enclosed, or tie-up shoes that will assist you in walking following the procedure. Nail polish, gel, or acrylic nails should be removed before surgery, and apply as little makeup as possible.